Permanent magnetic separator
Magnetic Separator
Electromagnetic separator
CLC series chute magnetic separator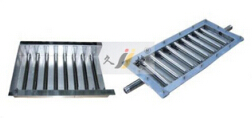 CLC series chute magnetic separator apply to clear ferromagnetic impurities in the liquid and slurry or dry powder, widely used in ceramics, electricity, mining, plastics, chemicals, rubber, pharmaceutical, food, environmental protection, pigments, dyes, electronics,metallurgical and other industries.
How it works: chute magnet system will be made of high-quality seamless stainless steel pipe and high performance rare earth alloy NdFeB magnet, installation constructed from high quality stainless steel chute, constitute a magnetic filter. Iron liquid or slurry or dry powder substances through by a strong magnet to attract the iron-containing substances adsorbed on the bar, in order to achieve the purpose of the removal of iron, to guarantee the safety of the product.
Product Features: This product is made of rare earth alloy NdFeB magnetic source, long life, no energy, no pollution, simple structure, easy to use, full lattice arrangement of the magnetic system, the magnetic area can be fully utilized, multi-layer design layers of filtration, more thorough removal of iron, the effect is more pronounced.
Chute type separator surface material used in all SUS304 stainless steel specification styles can be used in accordance with customer requirements and site conditions arbitrarily change the custom.
Parameter table: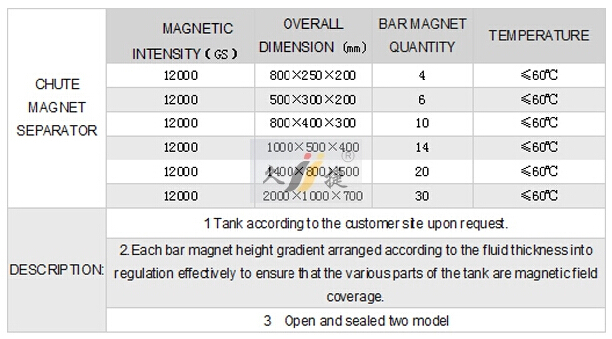 USE SITE: