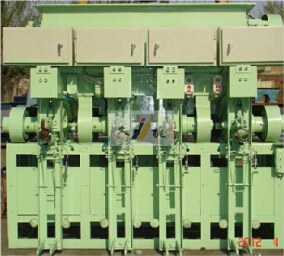 BHYW-8 Introduction of new rotary packing machine
I plant developed BHYW-8 New Rotary packing machine for its measurement precision, production standards and low failure rate, adaptable, and in one fell swoop of similar foreign products meet and exceed the level of concern by the domestic and international users, the first units to be Xinyuan Import and Export Co., Ltd. Guangxi exported to Vietnam, praised by users, the company has purchased a second.
In the early nineties, Tangshan City, developed the first rotary cement packing machine. Director of our factory is the main design of high Jianzhong, one of trial. Tangshan Xinhua former (current s), loyalty, the National Building Materials Bureau director of technical schools and other three companies, managers, concentrating on the design of mechanical work and success, rely on imports for many years to break the situation, a fill of the cement industry blank, save a lot of foreign exchange for the country, led by the National Building Materials Bureau praise.
While the product instead of imported products in the country, but there are still measurement instability, up bags of serious, low output, high failure rate and many other issues, over the years has not been resolved.
Founder of the 1999 high Jianzhong Xiangyun automated machinery plant in Tangshan City. Since the establishment of self-plant, the first director of high Jianzhong several patented technologies in their own packaging machine to a fixed three replacement to solve the measurement are not allowed more than a decade, low output, high failure rate and other defects that cement companies headaches, to user satisfaction, products have been sold 30 domestic provinces, autonomous regions, so I plant rapid development, rapid growth. With the strength, the director again aiming for the high rotary packaging machine technology updates. After repeated field visits, listened to a large number of cement companies recommended by experts, carefully analyzed and summarized to identify the main reasons for many problems: lack of is the gray (8 mouth hovering around only 70-90T / h or so, has not been able to solve) . To address this critical issue, several hundred thousand dollars for investment in trial and error. Because rotary packing machine in the filling process, it should turn out a week to fill bags, because the ash has not been filled less than one revolution, such as when filling the second week and then to out of many, resulting in up bag more than a few kilograms phenomenon. Bags of cement up a large loss of efficiency is very striking. In order not to up bag, only the lower speed, lower yields, longer filling time. To create a larger cement companies troubles and losses. For example: according to the standard output design requires 2 sets of packaging machines, production line put into production can not meet the design and then install a platform not only increase investment in equipment, but also to the process laid out the problem! Installed where? And a more substantial infrastructure investment! Finally, reluctantly, many cement plants, plus fixed packaging machine can only meet their urgent needs.
In response to these problems, a series of high Jianzhong using their own patented technology director, in addition to lower than 70% failure rate, significantly increased the ash, and improve the yield of 20%. The packaging machine at home and abroad to become the only measurement can be achieved without pneumatic devices, the output double-standard and very low failure rate of products for China's cement industry on the level of the ascendant and laid a solid foundation.
Detailed analysis of the aircraft following four characteristics:
1. Measurement Standard: bags weighing long-term stability to within 50 ± 0.5 公斤, with a pass rate of 100%. Ensure that no large bags and pouches (ED13112 factory developed high resolution, high-precision weighing instruments computer, using the most advanced microcontroller control chip, the chip has a RISC instruction structure, storage structure based on the Harvard dual-bus and two stage instruction pipeline structure. using a sampling rate of up to 10 million times per second ADC. using imported instruments dedicated programmable operational amplifiers, the memory use the advanced FRAM memory, erase life of 100 billion, is the world performance of the best memory. ED13112 microcomputer instrument not only high accuracy, long life and fewer failures).
2. Output is high: Our patented technology uses a new vacuum seal made out of ash-type return air power head, resulting in a vacuum not only protect the seals and bearings, and reduce the failure rate of 70%, and the increased pressure generated by ash, and improve the yield of 20%. Rotary packing machine factory on a special tube for improvements to enhance the pressure to speed up the rate of ash. Another use of large diameter ash adjustable nozzle (diameter φ48 above), cast a wide hopper (120mm wide) to 8 spout packaging machine production reached 100-120T / h or more.
The technology to ensure there are no bags to 2 laps off (turn 2 turn will cause a large bag) of the situation, not only high yield, and measurement standards.
3. Failure rate: The eccentricity of charge, to eliminate the central axis of the feeding damage caused by overheating of the bearings, while increasing the feeding quantity. German HAVER companies and companies, and other advanced models like the CP, the control body is very scientific, simple and reliable. Japan's Hitachi drive with the original control rotation speed, with the United States, Motorola, Microsoft, computer device manufacturing ED13112 weighing instruments, interference, superior performance, quality problems caused by device failure is almost zero. Ash bucket with steel, cast steel impeller, cast steel bearing service life 2-5 times.
4. Cost is low: one year with the same packaging machine parts volume of 4 million, 8 spout with my plant capacity packaging machine parts up to a few thousand dollars. A year or so has been used several plants has not yet purchased any accessories! Such as Vietnam, Handan Muan, Changchun and other new plants. This is not simply to spend tens of thousands of dollars to do, because the more used parts, indicating that the higher failure rate, the longer the downtime, lower yield, measuring the more inaccurate the greater the loss.
New packaging machines rotary cement industry leader by the success of the attention again. September 29, 2004, before the government of China Cement Association president Ray, Vice President Zeng Xuemin, a line of seven experts led by Secretary-General, to our plant research, and give a high evaluation. (See the industry magazine "China's building materials" at 11 19, "China's cement" at 11 32 with photo coverage.) I will never live up to the factory staff incentives and industry leaders expect cement companies will be doubly exert developed newer and higher products, the healthy development of China's cement industry to contribute!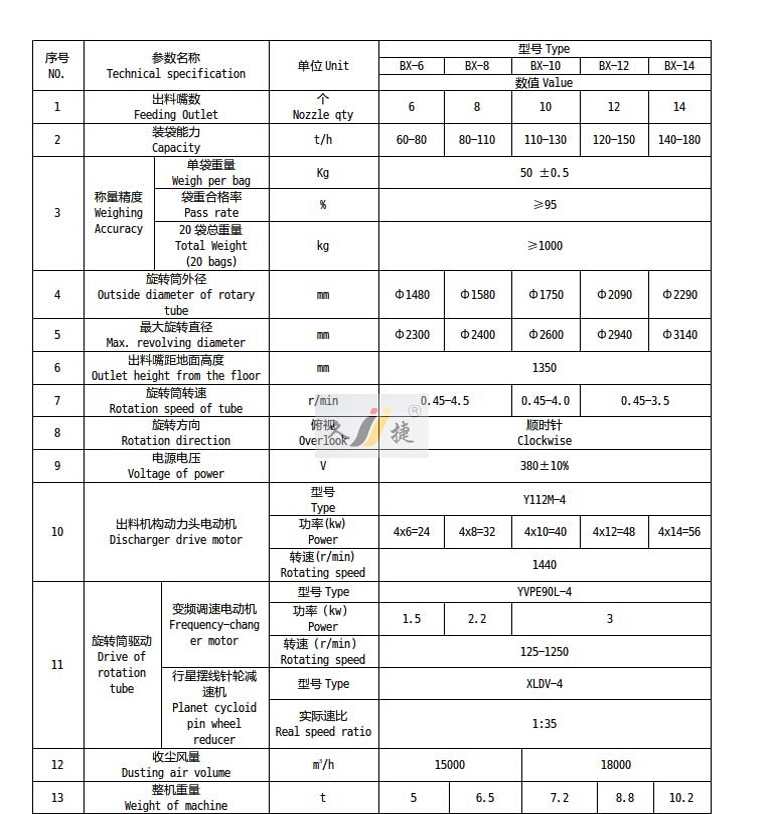 XYD100-650 mobile vehicle bagged cement loading machine is Tangshan Xiang Yun automated machinery plant to meet the large cement company car bagged cement demand, independently developed the advanced level of new products. The product is designed, compact structure, meet the requirements of various automotive bags, loading capacity of 100 ~ 130t / h, is the cement of choice for automotive equipment bags.
XYD100-650 mobile car loading machine bags of cement factory installed option developed its own proprietary products ED13112 microprocessor based counter.
ED13112-based computer with operation and easy commissioning and reliable performance characteristics.
The main components used in computer, all using high quality imported chips. In hardware design, using the most advanced single chip microcomputer as the master chip. The high operation speed, oscillation cycle every 4 to execute a machine instruction, nearly a million instructions per second operation to ensure that the computing speed. Omron uses imported input probe. FRAM memory use the advanced memory storage with the RAM speed, EEROM storage performance, not outages. FRAM's Endurance 100 billion, industry-level standards. Is the world's best memory performance.
Software design for the site all the circumstances, were dealt with seriously. In order to achieve accurate and real-time control and speed of response, using the assembly language programming, making the program capacity of the smallest, most efficient. In the input, in order to clear the light interference and electromagnetic interference, the use of an optimized digital filter technology; data processing, use the advanced world based on the calculation of fuzzy theory to improve measurement accuracy, reduced site disturbance. Display dynamic scanning technique used to reduce the whole power consumption.
In order to adapt to the harsh environment of industrial site, power supply design using a special transformer, voltage regulator and a stable and reliable system to ensure the smooth running of a computer and reliability. As a result of low-power design, aircraft design, maximum power consumption of 5 watts (measured less than 3 watts). To ensure reliable operation of microcomputer, the circuit also uses an advanced self-run watchdog and voltage detection circuit, to ensure that interference in the industrial field SCM environment, can be reliably.