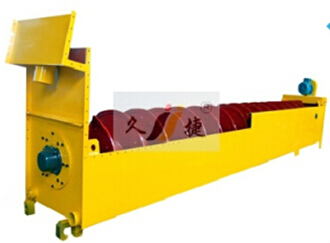 Brief Introduction:
Application:Washing and selecting, classifying, and
trash-extracting in industries, like metallurgy, construction,
water and electricity, etc. This series of machine is suitable for
washing and selecting materials of mid-fine and rough granularity.
Features:
1. High level cleaning and reasonable structure.
2. Large capacity and small power consumption.
3. Small loss of sand during the process of sand washing.
Technical Parameters:


| | | | | |
| --- | --- | --- | --- | --- |
| Model | Spiral diameter (mm) | Capacity (t/h) | Power (kw) | Weight (kg) |
| XSL-50 | 500 | 12-20 | 3 | 2.55 |
| XSL-75 | 750 | 40-55 | 5.5 | 3.82 |
| XSL-100 | 1000 | 60-75 | 7.5 | 4.87 |
| XSL-120 | 1200 | 80-100 | 11 | 6.9 |
| XSL-150 | 1500 | 100-130 | 18.5 | 8.8 |
| XSL-200 | 2000 | 130-160 | 22 | 19 |
| 2XSL-100 | 1000 | 120-150 | 7.5x2 | 8.9 |
| 2XSL-120 | 1200 | 160-200 | 11x2 | |