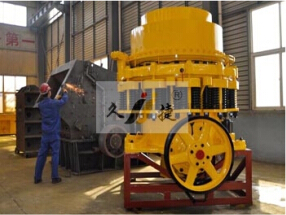 Overview
CS Series cone crushers were built for decades of reliable service. The design was as simple as possible with features that were user friendly, and craftsmen with many years of experience built the frames and components for ruggedness and durability with American steel and pride in their work. Because of this, CS Series cone crushers enjoy a worldwide reputation as rugged, durable, easy to maintain, and reliable. Now there is a conversion kit to combine all the features that made them so rugged and reliable, with more modern features to increase production and automation.
Features
1. High-performance
Combining optimal designing of chamber type with applying reasonable speed and stroke to make this kind of machine does more work with the same dynamic cone diameter. Therefore, this machine is of high-performance and manufactring capacity compared with other cone crusher of the same type. Use lminated crushing principle, to make more cubic shape materials and less needle-like materials.
2. Good products size composition
The crusher applys for laminated crushing principle to make cubic shapes of final products stand for larger proportion. Acicular and flake shape products decrease and size fraction much more well-proportioned.
3. Good stability
If there is metal or other non-broken material come to the chamber, metal going through protection device will release it and then reset automaticly. The protection device has fixed discharge opening returning point and the original discharge opening can returing back immediately after the metal goes through the crushing chamber.
4. Convenient Cleaning-up
If the crusher stops under loading condition, hydraulic cleaning system can clean up the crushing chamber quickly so that decrease the downtime.
5. High reliability.
Adopting main shaft with big diameter,heavy main frame and separate automatic Control System of thin oil lubrication system, so that it guarantees robustness and reliable operation of the crusher.
6. Easy maintenance and operation
All parts can be disassembled from top and the upper side, so that fixed cone and dynamic cone can be disassembled easily.
Under high shock and vibration environment, bronze Bearing can keep excellent bearing capacity and it is much more economic and easy for maintenance.
7. Low production costs
Due for big capacity, high reliability and easy maintenance, the production costs has been recuded greatly.
8. Widespread use
The speciality of CS Series High-efficiency Spring Cone Crusher is maximizing the performance to apply to all kinds of crushing process: from special coarse crushing to fine crushing; from fixed crushing plant to mobile crushing plant.
CS Series High-efficiency Spring Cone Crusher has different types of crushing chamber for choosing according to crushing process.
9. Separate Lubrication
Specifications
Standard