RCDC Series air cooling self-cleaning Electromagnetic Separators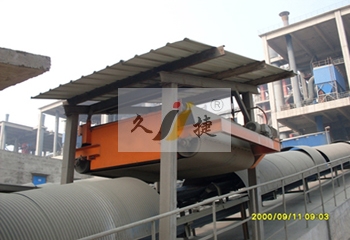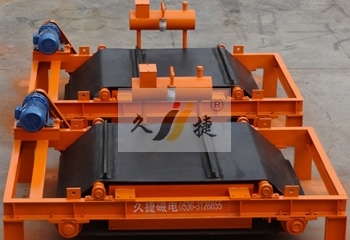 RCDC Series air cooling self-cleaning Electromagnetic Separators
Applicable Scope :
It is widely used in iron &steel plant ,cement plant, power plant . remove iron from slag and protect the roll squeezer ,vertical mill and crusher equipments ,it should work in the better environment
Product Features:
With the computer-simulating design, the magnetic field is forcefully.
The coils have unique features like anti-oxidation, anti-dust, good insulation;
Large heat releasing area, low temperature rise, good cooling performance, etc.
The coil is made of epoxy resin and they are moisture-proof, dustproof and corrosion prevention.
The Self-Cleaning Iron separator is easy to maintenance , the Waist-drum shape roller can rectify the belt automatically,
Computer simulation design. Simple structure, easy to maintenance.
High magnetic field strength, large power, large magnetic penetration depth.
Adopt axial fan for excellent heat dissipation, electromagnetic coil low temperature rise.
RCDC Series air cooling self-cleaning Electromagnetic Separators of internal excitation coil is cooled by the air conditioning cooling blower or the axial fan forced air cooling, air conditioning cooling blower is suitable for the separator work environment clean, the axial fan forced air cooling is suitable for the hostile working environment (such as dust, coal dust ), this model has a simple structure, easy to use, low failure rate, the use of a widely range, adsorb iron from any material on the conveyor, provide a protective effect for the various types of crushers, grinding machines and other equipment.
RCDC Series air cooling self-cleaning Electromagnetic Separators, in RCDA series air suspension on the basis of the electromagnetic separator drive motor, roller, scraper unloaded iron tape unloaded iron body composition. The unloaded iron bodies automatically unloaded iron belt adsorbed ferromagnetic material thrown into the collector outside the metal box inside the separator in the work process, without blackout manual cleaning iron removal automation.

Dimensional sketches and installation sketches: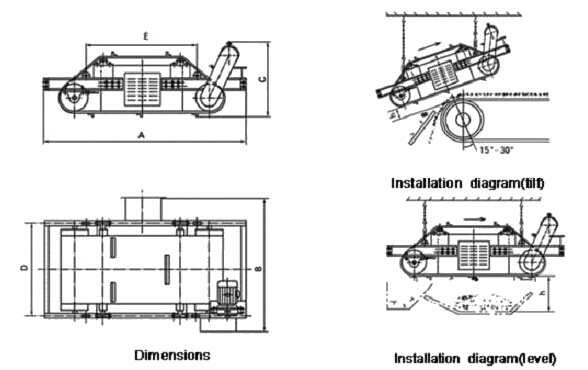 Parameter table:

RCDC-T series heavy strength type Parameter table: