CBS drawer magnetic separator

Magnetic Grate
CBS drawer magnetic separator is mainly used for iron removal of sensitive materials, such as food, pharmaceutical, chemical, quartz sand, ceramic high. Its strength wear-resistant housing made of rust-proof stainless steel. All surface and welding head are seamless and highly polished. Its strong magnetic properties can even remove the stainless steel particles of the sheet-like materials and low magnetization.
YT Magnetic grates are designed for product purity of free flowing materials such as carbon black, drugs, chemicals, cosmetics, plastics, food industries and so on. These units are easily installed in any hopper or floor opening, chute or duct. It makes product stream free flowing products to come in directly contact with the grate. When anything containing iron substances passes through the framework, Iron particles are attracted to the bar magnets by magnetic fields. By this solution, your equipment and facilities will be protected, while your products will be safe for consumption.
Construction:
YT magnetic grate are constructed by a row of magnetic bars which are fixed by frames in various shape. It can be square, rectangle, round, oval, triangle, rhombus or irregular polygon, to suit for different position. Center distance of bars is usually 2 inches. All the frames and shells are 100% stainless steel.
Features:
1. Finishing: Well polishing and welding to meet food grade.
2. Material of shell: SS304, SS316 and SS316L seamless steel tube
3.Working Temperature: Standard working temperature is≦80℃, but if high temperature is required, we can offer up to 350℃ to meet your special applications
4. Various designs available. Standard type, Easy clean type, one layer, multilayer
5. Also takes customers' designs.
6. Customer designs, specifications can be fulfilled.
Application area:
Products are of dry powder and granular, while contaminants are relatively small and fine.
How to select our products?
Please advise us the above necessary information to make enquiry. If you aren't in a position to offer these information, please feel free to contact our engineer and acquaint us with the application environment and material condition.
Parameter table: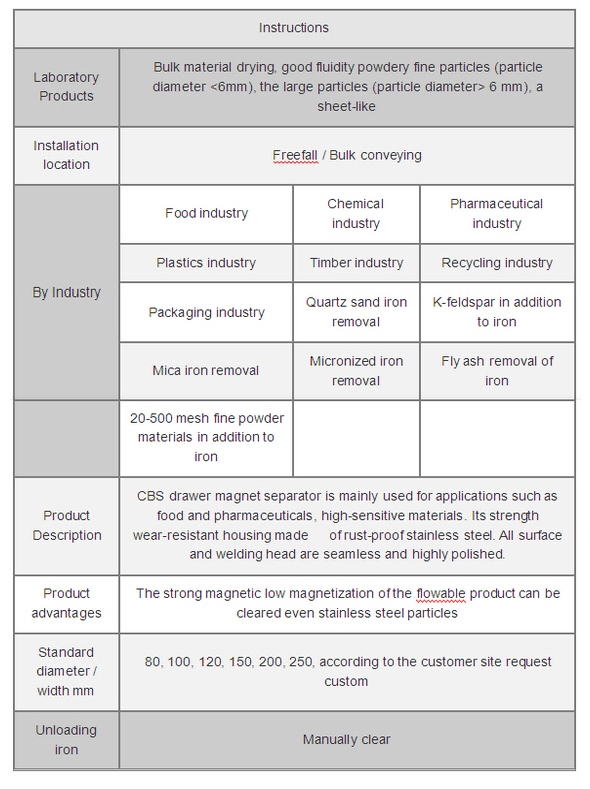 USE SITE: